Limerick's gunrunners 1914
Castleconnell Historical Society
8pm Wednesday 14 January 2015, Shannon Inn, Castleconnell
WWW version:
January 1913: Ulster Volunteer Force founded
Tuesday 25 November 1913: Irish Volunteers launched
Friday 5 December 1913: Royal Proclamation published in The London Gazette prohibiting, under the provisions of the Customs Consolidation Act, 1876, the importation of arms and ammunition into Ireland
Saturday 25 April 1914: Larne gun-running
Friday 8 May: Committee meets at Alice Stopford Green's house in London:


Roger Casement
Erskine and Molly Childers
Lord Ashbourne
Sir Alexander Lawrence
Alice Young
Mary Spring Rice
Captain Berkeley
Min Ryan
Conor O'Brien
Hugh O'Brien

Monday 25 May: House of Commons passes Third Home Rule Bill (Government of Ireland Act 1914)
Sunday 28 June: Archduke Ferdinand assassinated
Monday 29 June: Kelpie sets sail from Foynes
Sunday 12 July: 1500 rifles loaded on Gladiator at Hamburg; 900 rifles transferred to Asgard and 600 rifles transferred to Kelpie near the Ruytigen lightship in the North Sea off the Dutch coast
Saturday 25 July: Kelpie's cargo transferred to Chotah in St. Tudwell's Roads, twenty miles west of Bardsey Island in Cardigan harbour
Sunday 26 July: 900 rifles landed at Howth by Asgard
Tuesday 28 July: Austria declares war on Serbia
Sunday 2 August: 600 rifles landed at Kilcoole by Chotah
Monday 3 August: United Kingdom of Great Britain and Ireland declares war on Germany
Monday 3 August: General Sir Thomas Kelly-Kenny proposed as a leader for the Irish Volunteers by Sir Thomas Myles
Friday 18 September: Government of Ireland Act 1914 and Suspensory Act 1914 received the royal assent, so the former was never put into operation
counterblast to the Larne gun-running? (Diarmuid Coffey, BMH witness statement)
for volunteers "restive for the lack of arms"? (Tim Donovan, p.116)
for show?
for publicity?
for presentation to senior nationalists, like John Daly of Barrington Street? (See 1916 monument)
against the Unionists?
against the Germans?
against the British? (1916 Rising)
Even Conor O Brien was uncertain:

"I, to be in the fashion, had put my yacht at the disposal of the other side. If I were asked which other side, I should have to admit that I knew as little as my employers did, so obscure were Irish politics in 1914; by the other side I mean not Ulster."
Asgard (51ft. 27.5 ton gaff rigged cutter, now on permanent display in Collins Barracks, Dublin)


Kelpie (26 ton ketch, built in 1871, ran ashore on the Scottish coast and was wrecked in 1921)


(Edward) Conor Marshall O Brien (owner) (b. England)
Kitty O Brien (his sister) (b. England)
(Hugh) Diarmuid James Coffey (b. Dublin)
George Cahill (b. Limerick)
Tom Fitzsimons (b. Limerick)
Hervey de Montmorency (boarded at Cowes, left after one night!)

Chotah (48 ton, 60 ft. cutter, engine powered, largest of the three yachts, no surviving picture)

Sir Thomas Myles (owner) (b. Limerick)
James Creed Meredith (b. Dublin)
Hervey de Montmorency (b. Gibraltar)
George Cahill
Tom Fitzsimons

Myles's own description:

the Chotah was 60 ft. overall, straight stemmed, 14 ft. beam. She carried relatively more canvass but in a breeze when on a wind the side of the dining table was one moment on a level with your nose and the next in your lap.
The Limerick people aboard
Conor O Brien and Kitty O Brien were siblings.
Mary Spring-Rice was their second cousin.
All three were greatgrandchildren of Thomas Spring-Rice, 1st Baron Monteagle (1790-1866), and all three were born in London, as their parents were essentially absentee landlords!
Monteagle's statue stands in the People's Park, Pery Square:
Conor O'Brien (1880-1952)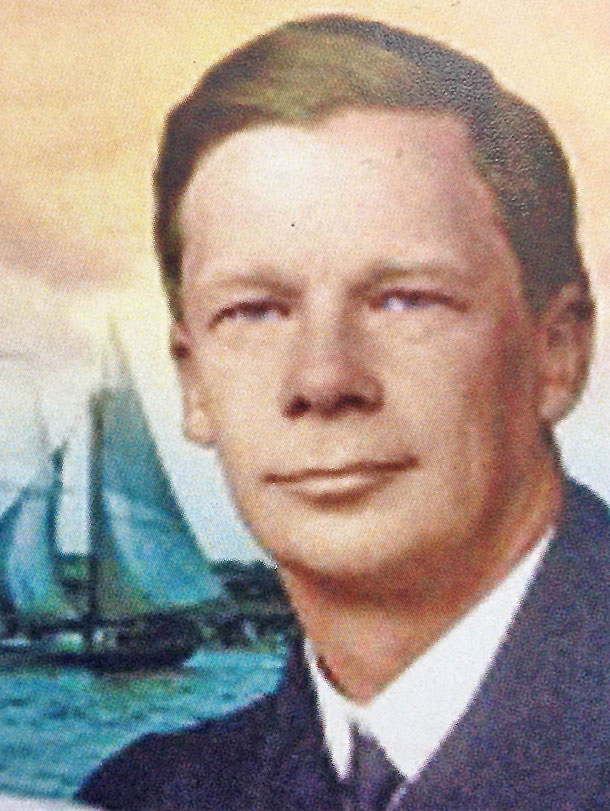 Edward William O'Brien of Cahermoyle (son of William Smith O'Brien) married twice:


On 8 Sep 1863 in Loghill to Mary Spring-Rice, granddaughter of 1st Baron Monteagle
On 31 Jan 1880 in St Mary Abbott's, Kensington to Julia Mary Garth Marshall, another granddaughter of 1st Baron Monteagle

Edward Conor Marshall O Brien, first child of the second marriage, born 3 November 1880 at the O Briens' London residence, 24 Roland Gardens
John Nicholas Walsh in his recent memoir recalls his first meeting with Conor O Brien, shortly after he moved to Foynes in 1927:

`When he sailed into Foynes I was anxious to see the hero and when he moved to the quay, presumably to take in supplies, I was there. What a shock! No one had warned me of his infamous temper. Of all the foulmouthed sailors he must have been the King; a far cry from the modest heroes of my schoolboy reading; I left after a few minutes. Years later when I came across his book Across Three Oceans the first few chapters brought back the recollection and I abandoned it, although I did read and enjoy it later.'

biographies have been written by Judith Hill (In Search of Islands: A Life of Conor O'Brien) and by Pádraic de Bhaldraithe (Loingseoir na Saoirse)
sailed his yacht Saoirse around the world, south of the three capes, in 1925.
married Kitty Clausen in London on 10 October 1928; she died on 27 July 1936.
Conor died at Foynes on 18 April 1952 and was buried at Mount Trenchard:
Kitty O'Brien (1885-1951)
Conor's younger sister, born in England 24 October 1885
mate and cook aboard Kelpie
not to be confused with her sister-in-law, also Kitty O'Brien, née Clausen, who painted her portrait above
lived in London, Cornwall and Wicklow at different stages of her life
died on 13 January 1951 at the Meath Hospital in Dublin and buried in Mount Jerome, Dublin
Mary Spring-Rice (1880-1924)
Stephen Edward Spring-Rice (1814-1865) predeceased his father the 1st Baron Monteagle (1790-1866)
Stephen's son Thomas Spring-Rice (1849-1926) succeeded his grandfather as 2nd Baron Monteagle
The 2nd Baron's daughter Mary Spring-Rice was born in London on 14 September 1880
The Spring-Rices' London residence was 17a Onslow Gardens, seven minutes walk from their cousins the O Briens
Mary was involved in the Gaelic League and other nationalist organisations.
She died of TB in a Sanatorium in Wales on 1 December 1924 and was buried at Mount Trenchard.
George Cahill (1888-1921)
of Barracks Cross, Foynes
Son of Timothy Cahill and his second wife Martha Halpin (married 9 October 1878 in Shanagolden) - not as stated in booklet, according to limerick.rootsireland.ie
later became a merchant seaman
died of malaria in September 1921 while his ship was in the port of Constanta near Bucharest in Romania, where he is buried.
Tom Fitzsimons (1894-1976)
of Foynes Island
Son of James Fitzsimons and Anna Walsh; baptised in Shanagolden parish on 2 March 1894.
loved to sing the local Kelpie ballad composed in Foynes many years later.
left Foynes Island in 1952 and later lived with his sister in Kilcornan and then in a house on the farm of his Hogan nephews.
died on 24 March 1976 and buried in Knockpatrick Cemetery
believed to have been the last surviving gunrunner
Sir Thomas Myles (1857-1937)
Son of John Myles, merchant, and his second wife Prudence Bradshaw
On 13 March 1855:


John Thomas Myles, first child of John Myles, born in Catherine Street
Thomas Waldron jr., second child of Thomas Waldron sr., born in Castleconnell (father and son both R.I.C. men)

On 16 July 1799, Thomas Waldron jr.'s greatgreatuncle Thomas Parker had married John Thomas Myles's greataunt Hannah Myles at St. George's Church
On 20 April 1857, Thomas Myles, second child of John Myles, also born in Catherine Street
Later moved to 13 Upper Mallow Street.
The brothers Jack and Tom Myles, although separated by more than two years in age, were both admitted to Trinity College on the same date, January 22, 1873, aged 17 and 15 respectively.
See Index to Trinity College Dublin student admission register, 1868-1879 and Trinity matriculation register, 1847-1876, Entrance books 1847-1876
Both brothers had previously been educated in Limerick by Rev. James John Hall (d.1874) the principal of the Diocesan School on Roxborough Road (completed in 1838 to a design by James Pain, but no longer extant)
Their College tutor was Dr. George Ferdinand Shaw (1821-99)
A generation earlier (1848), Shaw was present in the rooms of John Kells Ingram (1823-1907) in House 30 in Trinity on the night when the latter wrote The Memory of the Dead, better known as Who fears to speak of '98
He was briefly the first editor of The Irish Times in 1859
Shaw's recent tutees had included Bram Stoker (1847-1912)
G. F. Shaw should not be confused with his apparently unrelated contemporary George Carr Shaw (1814-85), father of George Bernard Shaw (1856-1950).
Not surprisingly, they were confused in their lifetimes, by the local laundry.
The two unrelated families got to meet each other as the laundry company mixed up the delivery so the Shaws of Synge Street got the sheets of the Shaws of Harrington Street
The Home Government Association was launched by Isaac Butt on September 1, 1870.
Besides Butt, the principal persons involved in the Home Government Association, all of them Irish Protestants, were Shaw, soon to be tutor to the Myles brothers; Major Laurence Knox, founder of The Irish Times and E. R. King Harman, from a leading landlord family.
By November 1873, there had been behind-the-scenes contacts between Fenian sympathisers, the Catholic Church and the Home Government Association.
Following a meeting called for by Dr. Keane, the Catholic bishop of Cloyne, and held in Dublin, there emerged a new body to replace the old Home Government Association.
This new organisation, which enjoyed Fenian and Catholic support, was the Home Rule League
Both Myles brothers shared sporting skills and interests (rowing, sailing, swimming, rugby, boxing, shot put, etc.)
In 1874, the winning crew at Castleconnell regatta in the junior under~19 event comprised G. Browne, W. B. Browning, Bruce Murray and Thomas Myles.
Thomas's medical degrees conferred 1880 and 1881
resident surgeon in Dr. Steevens's Hospital from 1881 to 1884; later associated with Jervis Street and Richmond hospitals
On Saturday, May 6, 1882, Dr. Thomas Myles, just turned 25 years of age, was summoned from Dr. Steevens's Hospital to the Phoenix Park to attend to the newly-sworn in Chief Secretary for Ireland, Lord Frederick Cavendish, and his Permanent Undersecretary, Thomas Henry Burke, who had been stabbed in broad daylight by the Invincibles.
Myles was one of six doctors who performed the post mortems - in the present U.S. Ambassador's Residence.
A new organisation, the Irish Protestant Home Rule Association, was founded on May 21, 1886, in the Castle Restaurant in Belfast's Donegall Place.
On June 23, 1886, Dr. Myles was involved in the noisy inaugural meeting of the Dublin branch of the Irish Protestant Home Rule Association, held in the Central Hall, Westmoreland street.
On April 21, 1888, at St. Peter's Church in Dublin, he married Frances Elizabeth (Fanny) Ayres, daughter of a deceased English-born clergyman and landowner, Rev. George Ayres (1825-1881) [Certificate].
Lady Myles's greatgrandmothers included a Sarah Hely of King's County mentioned in the Marriage Licence Bonds of the Diocese of Killaloe for 1777
Barack Obama's GGGGGGgrandmothers included a Sarah Hely of King's County mentioned in the Marriage Licence Bonds of the Diocese of Killaloe for 1761
first residence 30 Harcourt Street
M.D. conferred later in 1888
Professor of Pathology, RCSI, 1889-97
By 1899, moved to 33 Merrion Square
In 1899, Dr. Thomas Myles was elected to hold the office of President of the Royal College of Surgeons in Ireland for a three-year term, 1900-1902.
libel action and injunction against his fellow candidate Fitzgibbon who claimed that Myles's association with the nationalist United Irish League (U.I.L.) would 'associate the college with the promoters of anarchy and discord.'
Honorary Freeman of the City of Limerick in 1900, during the three-year Mayoralty of John Daly, on account of his medical achievements. The others so honoured under Daly were Thomas J. Clarke (soon to marry Daly's niece), James F. Egan and Maude Gonne.
Along with Vincent Nash, the High Sheriff of Limerick, Thomas Myles was one of two Limerick men awarded knighthoods (Kt. Bach (1902)) in King Edward VII's coronation honours list, announced on June 26, 1902.
After the gun-running, Sir Thomas Myles (like his older brother Jack) joined the Royal Army Medical Corps.
named on a plaque listing members of the Limerick Protestant Young Mens' Association who took part in the Great War, 1914-1918 'For King and Country'
on duty in Dublin at Easter 1916; briefly taken prisoner according to Witness Statement by James Clarke, who once brought Austin Stack to him for treatment for a football injury
did not allow any of the wounded to fall into British hands, except one
in 1917, gave medical evidence at the inquest on Thomas Ashe, according to Witness Statement by Kevin O'Shiel
After Matt Brady (father of Ruairí Ó Brádaigh) was shot and wounded in Longford on April 29, 1919, he was transferred to the Richmond Hospital, where according to Seán MacEoin's Witness Statement:

Dr. Michael Burke and Sir Thomas Myles took care of him till the Truce, many times locking him into presses and other places of concealment when the place was being searched by Black and Tans and other British forces.

signed a memorial to the Prime Minister, published in The Times on May 12, 1921, containing a new peace proposal
By 1932, moved to 32 Leeson Park
continued to pursue his professional duties and met the demands made upon his services until he was in his mid-seventies
died in the Richmond Hospital, July 14, 1937
buried at Dean's Grange with Lady Myles
Only the Irish Press obituary mentioned his gun-running exploits: "No One More Nationalist": How Sir Thomas Myles Risked His Position For The Cause
For probate purposes, his seventy-ton ketch Sheila was worth more than his home at 32 Leeson Park; a neighbouring house (no.26) sold for €6.5 million in 2007.
On the beach at Kilcoole, a bronze plaque on a granite boulder reminds the visitor of the events that took place there in 1914. Sir Thomas Myles is named on the Kilcoole monument.
Postscript
None of the six Limerick gunrunners produced any offspring. Four of the six were members of the Church of Ireland.
Mount Trenchard Memorial Committee
John Cussen (Newcastlewest, chairman)
Tom Toomey (Castletroy, secretary)
John Curtin (Ballyhahill)
Seán Diffley (Foynes)
Tim Donovan (Rathkeale)
Tom Donovan (Clarina)
Liam Dundon (Foynes)
Patricia Haselbeck (Lisnagry)
Seán Liston (Knockaderry)
Denis Nolan (Ballyhahill)
Seán Nolan (Ballyhahill)
Pádraig Ó Ruairc (Newcastlewest)
Seamas O'Sullivan (Broadford)
Paddy Waldron (Killaloe)
Unveiling of monument took place at 2p.m. Sunday 21 September 2014.